27Feb22 – New-ish Group Pix =)
20May21 – 2nd and 3rd PhD viva success! Congrats Simon and Tom!
6December2020 – First PhD viva. Congrats Nicolo!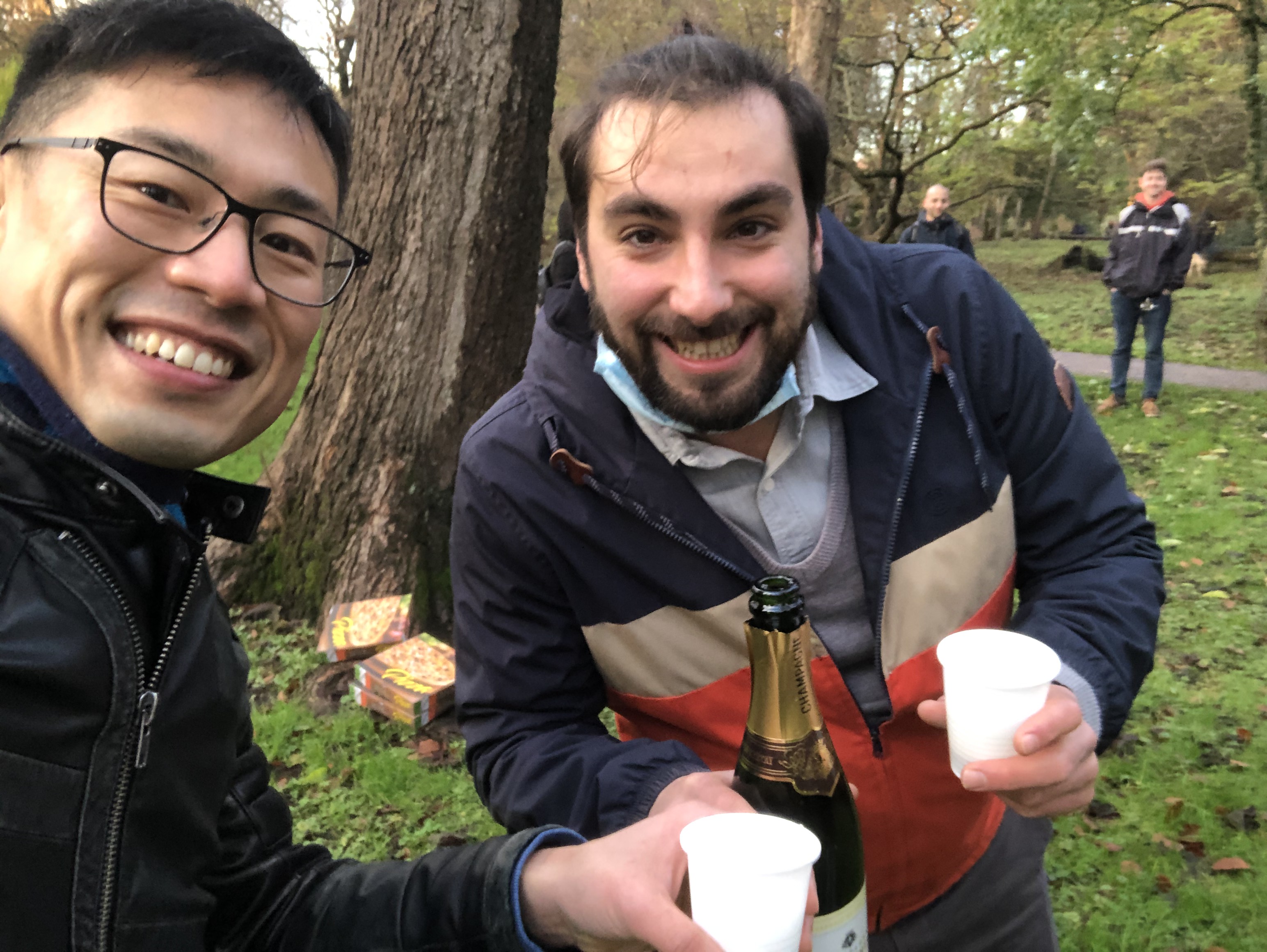 21October2020 – We are looking for a BBSRC-funded post-doc to join our team for the design of a novel chemo-enzymatic protein bioconjugation reaction. Please apply within.
https://www.chemistryjobs.com/job/10294br-research-associate-in-chemical-and-synthetic-biology/54907120/
22August 2020 – Our preprint on Racemic Protein Crystallography
https://chemrxiv.org/articles/Total_Chemical_Synthesis_of_Aureocin_A53_Lacticin_Q_and_Their_Enantiomeric_Counterparts/12444554/1?file=22961636
21 August 2020 – Cover Art!
https://pubs.rsc.org/en/content/articlepdf/2020/sc/d0sc02023k
6 October 2019 – Today's lunch is Paracetamol, because I just did the #CardiffHalfMarathon. The time was 1:59:10 – can be better tbh. If you can save your coffee trip and donate, it is much appreciated. Lots of #cancer patients and families need your help. #CancerResearch https://www.justgiving.com/fundraising/louis-luk1
30 August 2019 – Please check our new preprint. This is our approach to enable N- and C-termini labelling using asparaginyl endopeptidase (AEP). No thio(depsi)peptide needed! Just an additive that enables a simple but highly efficient chemo-enzymatic pathway.
November 9, 2018 – We adapt a new technique – TEM!
October 16, 2018 – Our recently published article has been recommended by F1000
. Many thanks to Dr S Castle.
July 18, 2018 – We welcome Xuefei and Cheng Leong joining our group.
July 18, 2018 – Robert Batchelor, our brilliant undergraduate and also designated chef, has successfully secured a CUROP position in our group.
June 3, 2018 – We went to Castle Coch and took some awesome group pictures =)
July 31, 2017 – Job opportunities are available.
January 2, 2017 – Happy new year! We also welcome Nicolo joining our group.
August 16, 2016 – We welcome Magdalena. She is our biologist. =)
July 7, 2016 – We are hiring for two PhD students =)
July 7, 2016 – We welcome Lewis, an undergraduate at Cardiff Chem.
June 11, 2016 – We are looking for a bright PhD candidate to engineer microorganism for unprecedented whole cell biocatalysis.
June 1, 2016 – We welcome Gareth, an IBcarb-sponsored summer student, joining our group.
June 1, 2016 – We wish Ridhuan, Drew and Laurence the best of luck in future.
June 1, 2016 – Bye Jon! Thank you for joining our team and helping us out. Enjoy your sabbatical 2 with Prof Whittlesey.
May 26, 2016 – A new publication in PNAS. Thanks Steve and Pancho!
May 5, 2016 – We welcome Alex from Germany.
May 1, 2016 – We are hiring. A research assistant post funded by the Wellcome Seed Trust =)
Mar 22, 2016 – We welcome Ridhuan, an exchange student from Singapore, joining our group =)
Feb 4, 2016 – New publication with my post-doctoral supervisor. Congrats Enas and Javier!
Feb 2, 2016 – We have one CDT sabbatical and two BSc students joining our group!
Jan 28, 2016 – Please follow our twitter page.
Hello everyone. We are a research group at Cardiff School of Chemistry. We will regularly update our post. Stay tuned =)